As you all probably know I'm also playing around with and testing Windows Server vNext Tech Preview and one of the nice new features in there I have my eye on is Soft Restart.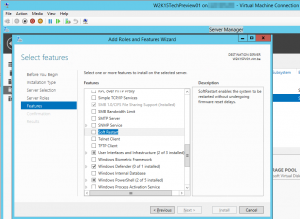 There is little information on this feature out there right now but from the description "Soft Restart" looks like a way to get faster Windows boot times by cutting down on device firmware initialization. When it's not needed that would be a great thing to have as with > 10gbps live migration speeds the boot time of our hardware loaded (DRAC, NICs, HBA, BMC, …) servers is what makes it the longest single step per node during cluster aware updating. Interesting if this is indeed what it's there for.
But let's find out if this is indeed what we think it is Smile. First of all the installation of this feature requires a restart. Keep this in mind.
There are 2 ways to kick it off that I know of but to me there must be more … it would be a shame not to have this integrated as an option into Cluster Aware Updating for example.
Option 1: via shutdown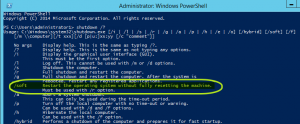 So let's try shutdown /r /soft /t 000. No joy, doesn't make one bit of difference and nothing logged or so to indicate an issue.
Option 2: PowerShell via Restart-Computer –Soft
No joy here either …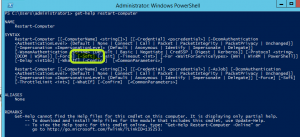 What could be the problem?
So I figured I needed enterprise grade server hardware with some FC cards & lots of NIC and memory to notice the difference. On a VM it might do nothing, but I assure you I doesn't do anything on the PC based home lab either. So I dragged a DELL PowerEdge R730 with exactly that into the game. But still no joy. Then I thought some more and decided it might integrate with the hardware capabilities to do so of I went to install the latest and greatest DELL Server Manager software to see if that make a difference. But again, no joy.
It's probably not lit up yet in this release of the Technical Preview 9841. For now I'll be content with the 28-30% improved reboot speeds the DELL R730 UEFI brought us. I'd love to speed things up a bit as time is money and valuable Winking smile but we'll have to wait for the next code drop to see if and how it works …
Original post: blog.workinghardinit.work